China KELIN F4 Star Pure Chipboard
China KELIN F4 Star Pure Chipboard
Japan JAS, Japan JIS And Japan F★★★★ Certification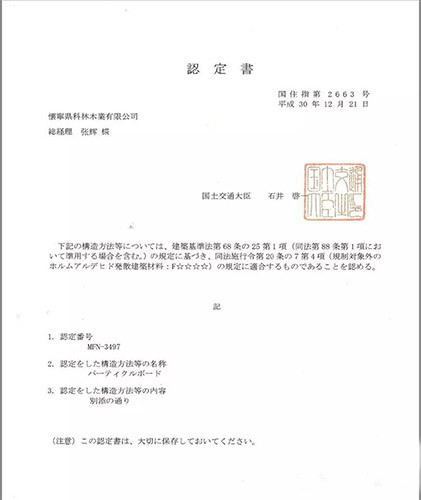 In the domestic many consumers and furniture factory customers for Japan's jas, jis and F★★★★ certification concept has some vague, in the introduction of F★★★★ certification before we can first learn about Japan's jas, jis certification.
JAS is the abbreviation of Japanese Agriculture Standard. It was formulated by the ministry of Agriculture, forestry and fisheries (MAFF) and came into effect on April 1, 2002. The JAS standard requires that all organic products exported to Japan, including agricultural, forestry, water and livestock products, must meet Japanese agricultural standards. JAS certification is voluntary, but mandatory for organic food.
JIS is short for Japanese Industrial Standards, which specifies the test methods and standard values to confirm the types and dimensions, quality, performance, safety and other aspects of Industrial products in mines. The product can be labeled with JIS mark when it can be confirmed by a designated third party certification body that it meets the JIS standard. There are 24 organizations authorized to issue JIS certificates in Japan, each with its own certification scope.

The certification body of F★★★★ in Japan is the ministry of land and communications of Japan. It mainly sets specific requirements for formaldehyde emission of F4 star in wood products, chipboard, plywood, density board and other wooden building materials, with the average value ≤0.3mg/L and the maximum value ≤0.4mg/L. F4 star is derived from the laws and regulations of Japan's agriculture and forestry ministry and is a certificate issued by Japan's ministry of land, resources and transport. Generally speaking, F4 star certification in the market is basically an F★★★★certificate issued by Japan's ministry of land, resources and communications. KELIN started to produce and applied for F4 star certification from Japanese minister at the early stage of production, and officially obtained this certificate in 2018. The certificate number is mfn-3497.
KELIN F★★★★ Pure Board And GB Board Inspection Standard Difference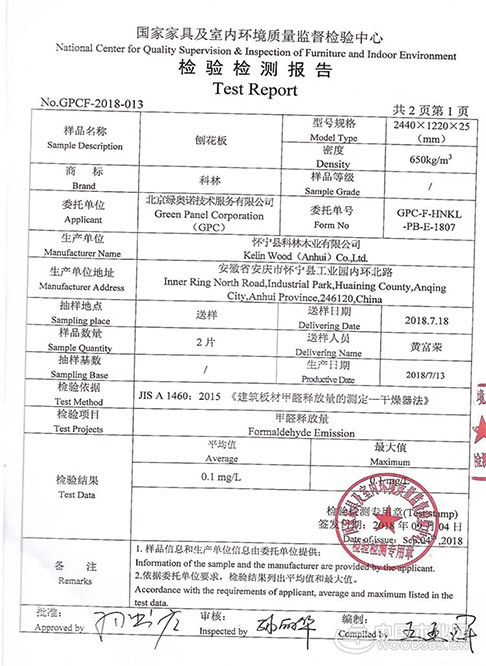 KELIN F★★★★ pure board compared with national standard board, the environmental protection index detection method and national standard of ordinary plate there is a big difference, Japan F★★★★ standard inspection area of 18,00c ㎡, being not sealing side, water bath temperature is 65 plus or minus 2 degrees, the detecting area of 180C㎡, c aluminum foil wrapped around, about 20 degrees detection can, on the specific detection methods, Japan's F★★★★ detection area is 10 times that of China, detection temperature is three times that of China, relative National standard,Japan F★★★★ detection standards can reflect the actual plate itself brought formaldehyde release amount!
Overall, Kelin F ★ ★ ★ ★ pure plate formaldehyde content results are 40% lower than China E0 (enterprise standard), if we use Chinese testing methods to detect Japanese F ★ ★ ★ ★ products, the measurement results will Lower, even close to the formaldehyde emission of domestic aldehyde-free added plates!

F★★★★Pure Chipboard Introduction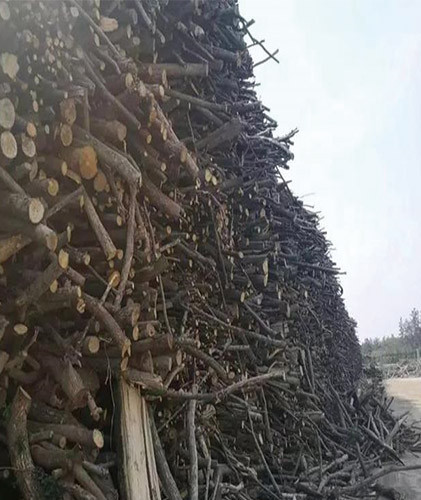 At present, Kelin F ★ ★ ★ ★ pure board mainly contains standard F ★ ★ ★ ★ pure board, F ★ ★ ★ ★ green core moisture board, F ★ ★ ★ ★ negative oxygen ion antibacterial pure board three series, size and size mainly contain 48 feet, 49 feet, thickness is mainly 9mm, 18mm, 25mm, Colin F ★ ★ ★ ★ internal control standards have implemented higher than the national standard of corporate standards, not only in the formaldehyde control to achieve the domestic top level, while for TVOC and heavy metal content The control has also reached international standards.
Kelin F ★ ★ ★ ★ pure board all use large-caliber pine wood logs, after natural health to taste balance, 100% self-shaving, to achieve 0 recycling materials added! After more than 20 processes, it is produced by Dieffenbacher imported from Germany. Its environmental performance, stability, load-bearing capacity and moisture-proof performance are far higher than national standards!
(The picture shows Kelin F ★ ★ ★ ★ pure board raw materials)
Address:

RM3AO4-3A08, 4/F, Area A, Building B, Yuehai Business Center, No.909, Sanyuanli Avenue, Baiyun District, Guangzhou, China, 510000